Astro Geography: Margaret Thatcher
As with George W Bush, here we see the assertive/aggressive face of Mars. Here it runs on the ascendant very close to the Argentinean capital Buenos Aires, continuing through to the western side of the Falkland Islands. It was Argentina that invaded the Falklands back in 1982, an act that prompted Thatcher to send a large military force across the ocean to take back the land. Many died in the war, but the victory and decisiveness (a quality associated with the Sun and Mars) of her actions helped Margaret Thatcher win her second term as British Prime Minister. Note too that she has the Sun rising exactly through the Falklands capital, Stanley. The Sun - particularly on the ascendant - is to do with putting oneself on the line, leadership, glory and orientation toward a positive future. In many ways the Falklands were one of Maggie's great successes.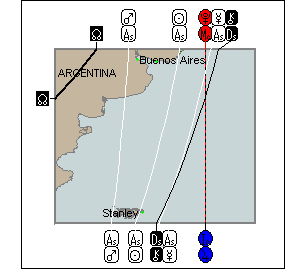 Home

Biography

Services

Writing

Astrogeography

Links
© Peter Watson 2003-2009. All rights reserved.